mediaHUB℠
Store and manage all of your digital assets with mediaHUB℠.
Secure
Finally, one safe and secure location to store all your digital assets. mediaHUB℠ SAS70 compliant data centers provide the added security of automatic back-up and redundancy leaving you free to create, curate, and deliver your dynamic content to your audience with peace of mind.
Scale
mediaHUB℠ cloud architecture can process millions of hours of video, hundreds of terabytes of images, page views and searches in a fault-tolerant environment. Videos are delivered in real-time, text and images in sub-second time no matter how you grow. Critical, time-sensitive information delivered to your users when and where they need it.
Control
Not all content is for everyone. mediaHUB℠ puts you in control of your assets at every turn. Organize user groups, create channels, set permissions in one location for all your digital media. Set time limited URLs, embed codes and strict DRM for outside audiences. It's your content and you're in control.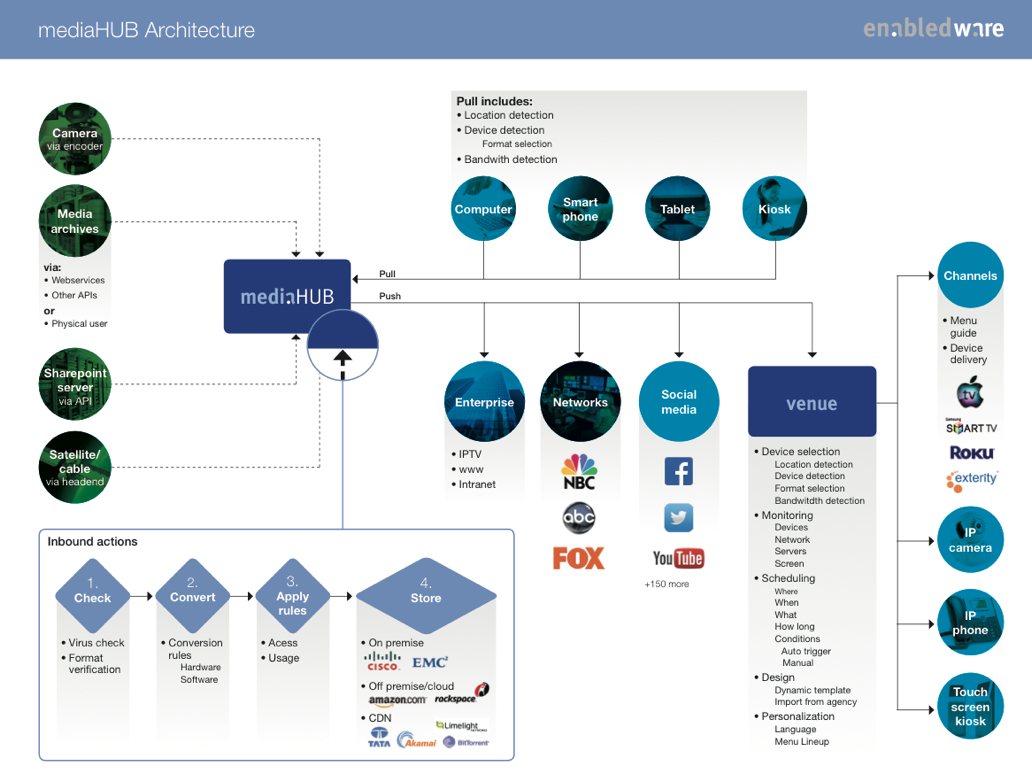 click image to make larger
Organize, Optimize, Accelerate and Engage
mediaHUB℠ is an enterprise Content Delivery Network (eCDN) focused on the acceleration and optimization of HTTPs video delivery across corporate networks that provides network friendly delivery of secure, high quality on-demand video and live rich media webcasts to any desktop, tablet or mobile device and much more...
Mobile
Your audience is on the go and your content will follow. mediaHUB℠ uses automatic device detection so every video, each image and all your documents reach users as bright, crisp and rich as when you created them, regardless of operating system or hardware. Integrated sharing and collaboration tools based on your predetermined user permissions bring an engaging and dynamic experience every time.
Captivate
Deliver the media-rich, dynamic experience your users expect every time. Unparalleled production quality delivers the crispest video, brightest images and robust social networking tools to make every experience an engagement.
Analyze
mediaHUB℠ offers a full suite of analytics tools so you can measure the full performance of every campaign. Know where and when your audiences are most engaged making it simple to optimize every delivery for increased viewers and the best ROI.
"When digital assets are not effectively managed, and delivered

you're missing the opportunities

they could be generating"
Try mediaHUB℠ for FREE!
Contact us.
United States
331 Soquel Ave, Ste 100 * Santa Cruz, CA 95062 * 831.423.0307
United Kingdom
Unit 12 * Parkside Business Centre * Walpole Road * London * BR2 9SF *+44(0)8000 199 331
India Technologies Building
* 2nd Floor * Plot No. 7 A, MLA Colony * Road No.12, * Banjara Hills * Hyderabad 500034
Designed By
EnvisionMedia One-stop Marketing Services
| All Rights Reserved